Who are the people behind B.C. Craft Beer Month?
Lundy Dale – Founder,Director : Vancouver, Greater Vancouver
Lundy Dale is first and foremost an IPA fan. When she's not spending quality time with a good IPA, she works as the office manager at R&B Brewing, a local Vancouver microbrewery. She has been president of CAMRA Vancouver and CAMRA BC over the years. She is a Certified Cicerone, one of 14 Canadians to receive this honour and the first female Cicerone in Western Canada, as well as a level one of the Prud'homme Beer Certification Program.  In addition she is also a member of the Pink Boots Society, an organization seeking to encourage and empower women to advance their careers in the Beer Industry through networking and education, through her "Pink Pints" women's beer group.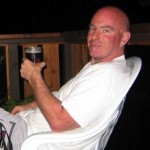 Paddy Treavor – Director : Sunshine Coast (Powell River )
Paddy has been involved in the BC craft beer scene on and off since the late 1990's when he first met James Walton of Storm and fell in love with local craft beer. Since that time he has worked in the industry, for Storm Brewing, become a member of CAMRA Vancouver of which he was president (2011-2013) and become an active craft beer activist, using his politically focused beer blog entitled VanEast Beer Blog. Recently Paddy has relocated from Vancouver to Powell River where he has just started up the Powell River branch of CAMRA. When not advocating on behalf of the craft beer consumer, Paddy loves to spend time with his wife Blanca and three-year-old daughter Cielo.
Kim Lawton – Director : Okanagan
(Pentiction)   
Kim Lawton is the Marketing Director for the Penticton-based micro-brewery Cannery Brewing.She has been involved in the fast-paced and exciting craft beer world for over 6 years. She is passionate about growing the craft beer market and loves welcoming people to the wonderful flavour complexities of craft beers. Kim has helped with a variety of different collaboration ale and beer events including the well-known Okanagan Fest-of-Ale. She is constantly tapping in to the craft beer scene and loves how social media has helped spread the good word about craft beers. She is forever writing, reading, reviewing and posting about all things craft beer on social media and blogs.
Julie Lavoie – Director: Island (Victoria)
Julie has been a long-time advocate of craft beer.This all began three years ago when she was introduced to all-grain home brewing and CAMRA  She helped out with CAMRA communications in 2011 & 2012 and is now the 2013 Communications Director for CAMRA Victoria and BrewVic Home Brewing Club.  Julie is also a  Director at Large for CAMRA BC, a Founder and Organizer of Victoria Beer Week, and the official Social Media Manager for the Great Canadian Beer Festival.  She has home brewed for over two years, has promoted craft beer events for three years, has completed the level one Cicerone and level one Prud'homme Beer Certification Programs.  She  now works for Driftwood Brewery & Garrick's Head Pub in Victoria. 
TWITTER:        https://twitter.com/CraftBeerMonth